SIG SAUER Introduces the MCX Virtus PCP Air Rifle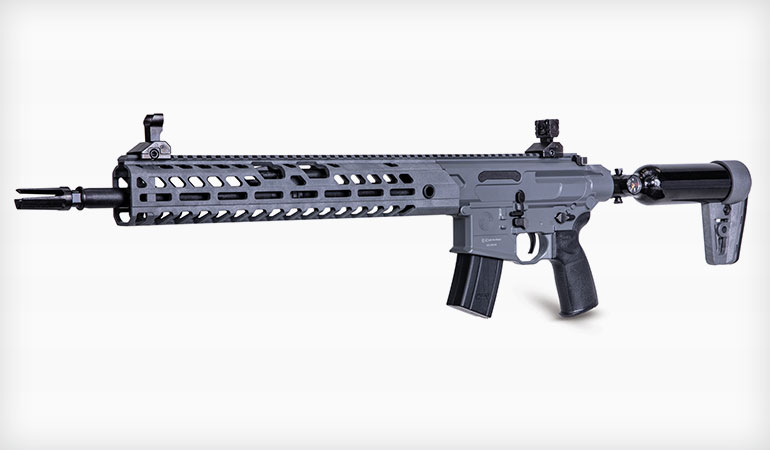 The SIG AIR division of SIG SAUER has introduced the new MCX Virtus pre-charged pneumatic (PCP) Air Rifle featuring the SIG proprietary 30-round rapid pellet magazine (RPM). 
Based on the MCX Virtus Patrol Rifle, the .22 caliber MCX Virtus PCP semi-automatic air rifle has a 17.5-inch barrel with M-LOK handguard for easy mounting of accessories. The Virtus is powered by a regulated, 13-cubic-inch, high-pressure air cylinder located in the stock. Maximum fill pressure is 3,000 psi and output is controlled at 1,100 psi ensuring consistent shots.  The air cylinder is refillable and delivers up to 150 shots per fill. 
"The new MCX Virtus PCP Air Rifle is powerful enough to hunt small game such as squirrels and rabbits and is great for pest control in addition to target shooting," said Joseph Huston, Vice President and General Manager of SIG AIR. "Unlike CO2-powered airguns, the high-pressure air in PCP models are less affected by extreme swings in temperature, making the MCX Virtus PCP an excellent all-weather airgun. Performance will be consistent, whether shooting on hot summer days or in freezing temperatures."
The .22 caliber MCX Virtus PCP Air Rifle shoots up to 700 fps with muzzle energy of 11 ft-lbs. 
The MCX Virtus PCP Air Rifle will be on display at the SIG SAUER Booth (#3912) at National Rifle Association (NRA) Annual Meeting in Indianapolis, Indiana, April 26 – 28, 2019. The MCX Virtus PCP Air Rifle will be available to consumers summer 2019.
For more information, visit sigsauer.com/airguns.
MCX Virtus PCP Air Rifle Total length: 37.25" Barrel length: 17.5" Weight: 7.5 lbs Finish: Gray Muzzle Velocity: up to 700 fps Muzzle Energy: 11 ft-lbs Caliber: .22 Magazine Capacity: 30 Power Source: High-Pressure Air MSRP: $349.99