Steiner Predator AF Binoculars: Quality at the Right Price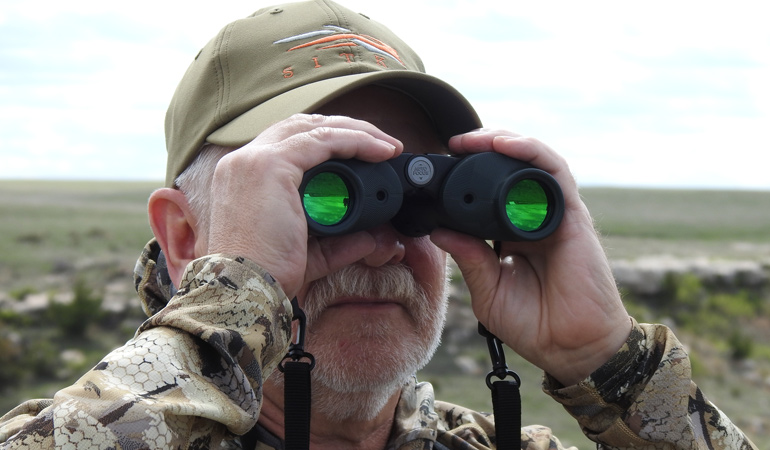 Steiner Predator AF Binoculars: Putting The Porro Back in Quality Binoculars
Thank Ignazio Porro.
In 1854, Porro, an Italian inventor, patented a system of reflective prisms to direct light around corners within a binocular housing, in effect lengthening the journey the light traveled from the objective lens to the user's eyes.
Why do you care?
The longer the distance from the light-gathering objective lens to the eyepiece, the greater the magnification. (That's why telescopes are long.) Porro's system of bouncing light around corners similarly allowed greater magnification within a shorter overall distance.
Again, why do you care?
Because Porro's 165-year-old design, with its characteristic dogleg or Z shape, is still in use in binoculars and because the objective lenses are offset farther apart than roof prism binoculars (which pinball light via prisms inside a straight-line objective-to-eyepiece design), it offers, among other advantages, enhanced three-dimensional depth and detail. It makes sense. That's why our eyes are set apart, to provide 3-D viewing.
And that brings us to Steiner's porro-prism Predator AF 8x30 binoculars, the next evolution of Porro's idea, with a compact, light design and — arguable the main advantage — easy Auto-Focus so you can adjust each eyepiece (the ocular lenses) to your vision once and only once and everything is in focus between 20 yards and infinity.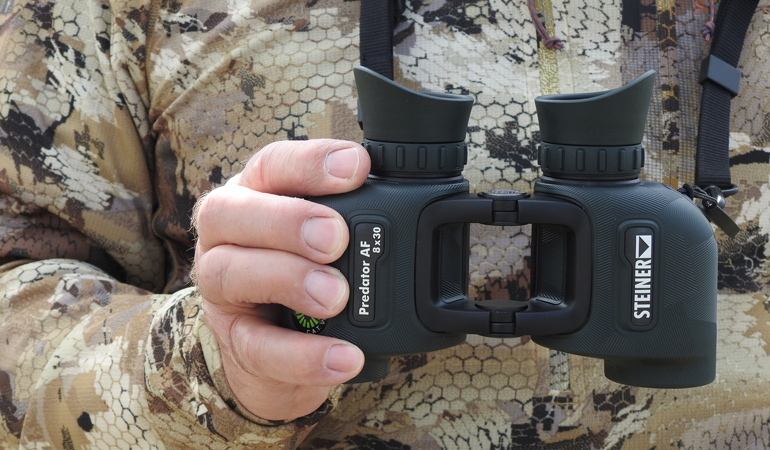 Because of their design, porro-prism binoculars provide extreme depth of field, the minimum/maximum distance objects are in focus, so essentially your eyes do the focusing as you look at close or far objects. Therefore, you're not chasing the focus on moving animals or objects, and you don't need both hands to dial that focus knob to stay focused as you or the object moves. You can imagine all the times one-handed viewing can come in handy, while carrying a rifle or bow, for instance, or walking or riding a horse.
Steiner is known for producing quality German optics and Predator AF models are "are one of our best compact binoculars," said Dennis Phillips, Steiner's marketing manager. The typical Steiner customer is well-informed about optics and expects quality and performance and in the Predator they'll find "a good entry-level German optic that offers performance and features comparable to much more expensive optics," Phillips said.
There are two Predator AF models, an 8-power with 30mm objective lenses and a 10-power with 42mm objective lenses. I won't beat the technicalities to death but the lenses are coated with Steiner's CAT (Color-Adjusted Transmission) lens coating which "filters out a portion of the yellow light spectrum so that game colored brown are contrasted against green foliage and brush, making it easier to spot game," Phillips said.
They're also waterproof, fog-proof and shockproof. That's another benefit of the porro-prism design. There are no internal moving parts to get knocked out of whack, so there's added durability and they are more waterproof than roof-prism binoculars with the same magnification.
"The bino chassis is designed to hold the prisms securely in place and they are cemented with shock-absorbing silicone so they cannot get knocked out of alignment, or collimation," he said.
Also, with porro prisms, there are only two access points to be waterproofed against moisture invasion, the ocular and objective lenses.
Plus, the Makrolon polymer housing is rubber-armored for added protection from bumps, bruises and moisture.
Not that you asked, but here are some differences in the roof-prism design, which uses a center wheel to move internal components back and forth, like a camera lens, to achieve focus in a much shallower depth of field.
"That's why you are always chasing focus on moving objects, which in low light is almost impossible," Phillips said.
Plus, the center-focus mechanism is another access point for moisture to enter and foul up the works. With internal moving parts, they are also more susceptible to shock damage.
"If you drop a roof prism and one or both of the center focus lenses gets knocked out of alignment, each eye will have a different adjustment," he said. "It's like wearing someone else's prescription glasses."
Porro prisms, with fewer internal components, also tend to be brighter than roof prisms, Phillips said.
"With binoculars, you lose up to 6 percent of available light with each lens component," he said. "Coatings greatly reduce the light that's reflected from front, back and edges and with typically six or seven lenses in each barrel, it adds up."
So, the Predator, with no center focus wheel with which to contend, has an open-bridge design between the two halves, which reduces weight and makes them easy to carry and hold.
Laser-etched texturing helps provide a secure grip, especially for cold, wet or gloved hands.
"Guides and outfitters love the porro-prism design because of the ruggedness," Phillips said. "They can loan them to clients and not worry about damaged or broken optics. Plus, they can be used one-handed while riding a horse, carrying a gun, etc."
And you can add hunters, boaters, military and law enforcement and active outdoor types to that list.
Porro-prism binoculars suffer from a misconception they are old-fashioned, when in fact they tend to provide brighter viewing as well as the extremely handy focus-once benefit. Roof-prism binoculars overtook porro prisms, perhaps due to marketing and the sleeker, more streamlined look and despite generally higher prices from the inherently complex engineering and construction. "Our challenge is most people have been convinced that roof prisms are the way to go," Phillips said.
My advice is to look past all that, to infinity and beyond, and try these Predators.
Twenty-word summary: Quality optics; crisp, bright image; easy handling — thanks to focus-once capability. Performance and features comparable to much more expensive binoculars.
The 8x30 model, which weighs 19 ounces, has a suggested price of $349.99. The 10x42s, which weigh a little over 30 ounces, are at $479.99. Plus they are backed by Steiner's Heritage Warranty, which covers repair or replacement for the life of the product.